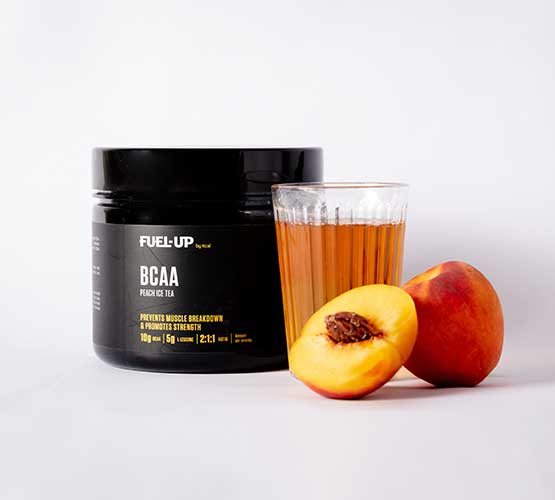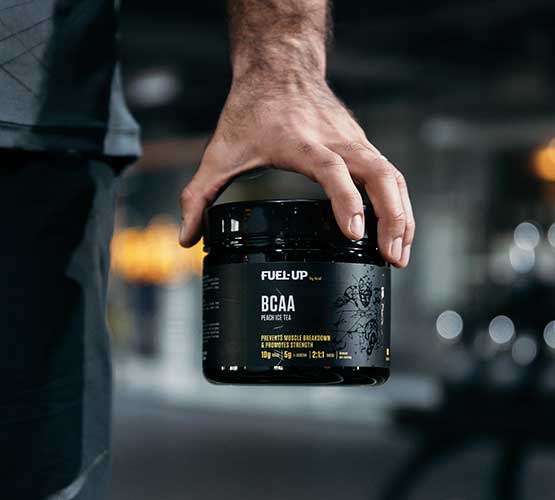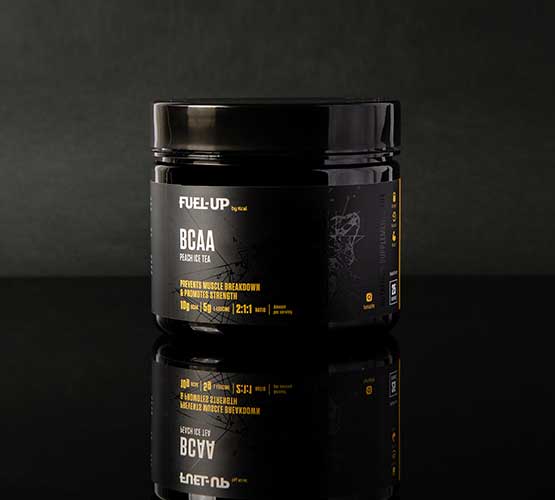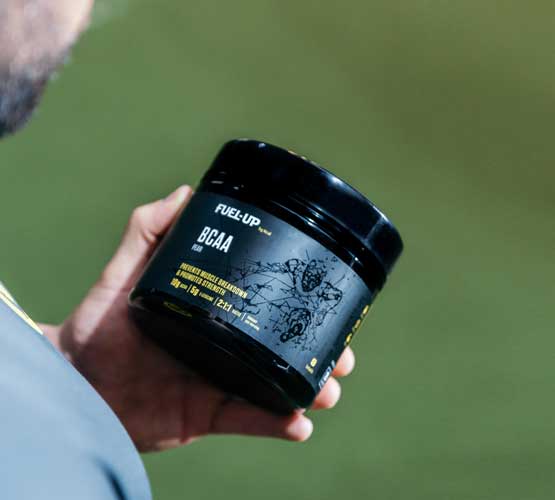 BCAA
PEACH ICE TEA FLAVOUR – BCAA POWER
---
MUSCLE GROWTH | RECOVERY | REPAIR
10g BCAAs, 5g Leucine, 2:1:1 Ratio
---
---
---
BCAAs are the essential anabolic aminos which play a key role in muscle building, without these amino acids muscle growth, recovery and repair can't happen.

Fuel-Up BCAA delivers a ratio of 2:1:1 of Leucine, Isoleucine and Valine – which has been clinically shown to ignite muscle building at the genetic level. BCAAs can help speed up recovery, reduce post-exercise fatigue and muscle pain brought on by an intense workout.

Supplementing with BCAAs can help preserve lean mass and prevent muscle breakdown.

Why Use Fuel Up BCAAs?
Muscles need aminos, without them it's impossible to fuel workout performance, build new muscle or repair and maintain them. Fuel-Up BCAA's deliver a clinically proven potent ratio of BCAAs to support muscle tissue repair.

Benefits of Using Fuel Up BCAAs

Supports Protein Synthesis – BCAAs including Leucine, Isoleucine and Valine, play a key role in activating the pathways involved in protein synthesis. Without these amino acids present, muscle building can't happen.

Reduces Muscle Breakdown – Keeps muscle amino levels in a positive anabolic state, preventing muscle catabolism or breakdown.

Speeds Recovery – Reduces post exercise fatigue and muscle pain brought on by a workout, helping get you back in the gym sooner.

Maintain Lean Muscle – Helps preserve lean muscle tissue and prevents breakdown from occurring.

Ingredient Breakdown:

Leucine:
The most anabolic of the BCAAs, Leucine is paramount in protein synthesis, and is a key regulator of this process. When Leucine is present, muscle building pathways turn on, when Leucine is depleted, muscle-building shuts-off until it is present again. Without Leucine, the body can breakdown your hard earned muscle as fuel. Leucine's presence can directly activate mTOR complex, the major pathway involved in protein synthesis, turning a muscle from the catabolic state to an anabolic one.

Valine:
An essential BCAA that can help reduce exercise fatigue and prolong workout endurance. Valine competes with tryptophan uptake in the brain. Tryptophan is produced during exercise and converts to serotonin. This neurotransmitter, which plays a key role in sleep and hunger, can signal fatigue in the brain when elevated, leading to decreased energy. Valine competes with uptake of tryptophan, preventing it from up-take by the brain and resulting in less serotonin conversion and less fatigue, allowing you to train harder and longer!

Isoleucine:
The last of the essential BCAAs, Isoleucine plays a role in promoting glucose uptake into the muscle cells, helping regulate energy use by the muscles, sparing amino use and encouraging more glucose energy is available for hard working muscles. Isolecuine can also help spare muscle by promoting fat burning pathways. Isoleucine can activate the PPAR receptor, which can encourage fat oxidation and inhibit fat storage.

Best taken pre, during or post workout.

Add one scoop (13g) to 500 ml of water, mix and consume. For best results use once per day on training and non-training days.

Supplement Facts
Serving size: 1 scoop (13g) – Servings Per Container: 25
Amount Per Serving
% Daily Value
Calories
Total Carbohydrate
0g
0%
  Sugars
Sodium
1mg
<1%
Potassium
13mg
<1%
L-Leucine
5000mg
**
L-Isoleucine
2500mg
**
L-Valine
2500mg
**
*Percent Daily Values are based on a 2000 calorie diet.
**Daily Value(DV) not established.

Other Ingredients:

Flavouring, Acidity Regulator (Citric Acid Anhydrous), Sweeteners (Sucralose, Acesulfame-K), Colour (Caramel).

Allergens:

Manufactured in a facility that handles dairy, eggs, gluten, nuts and soy.

Disclaimer:

Do not exceed the recommended dosage. Store in a cool, dry place and out of reach of children. Discontinue and seek medical advice if you have an adverse reaction.